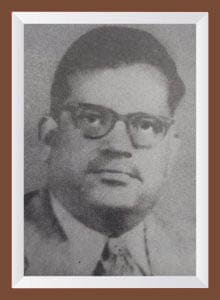 Late Thakur Chiranjeet Singh Tanwar, Advocate.
Born on 28th October 1905 at Bhiwani. Late Thakur Chiranjeet Singh Tanwar enrolled as an Advocate in the State of undivided Punjab. He practiced as an active lawyer until the time of his death. He had to his credit an active practice of more than 40 years. He had the credit of being the Chairman. Municipal Committee, Bhiwani, Haryana. He had a keen interest in formalising the banking system as well and was the pioneer/founder of the Bhiwani Central Cooperative Bank which came into existence in 1940s. He was involved in a variety of social activities and worked hard on the social front as well. He was actively involved in setting up and administration of the educational institutions in District Bhiwani.
He died on 13th January 1972, leaving behind four sons. All four sons have been the members of the Bar. Two out of the four sons of Late Thakur Charanjeet Singh (including Our Mentor) are still in active practice. Our Organisation still follows the high ethics maintained by him and he was the founder of the three-generation law practice in Our Director's family.
He is the Guiding light to Our team. May he keep us blessed.
Thakur Vinit Singh Tanwar, Advocate.
Thakur Vinit Singh Tanwar having graduated in law, during his stint of practice as a lawyer, got selected in the esteemed Haryana State Prosecution Service as an Asst. District Attorney/ Public Prosecutor in the year 1980 and rendered services to the state of Haryana, dealing with sensitive criminal matters
Having retired in February 2009, he has been supervising the operations of Law Offices of Kr Vivek Tanwar Advocate and Associates, till date. He has been acting as a true mentor in all senses guiding the entire team through all the complex legal questions.
Apart from this, he is heading the Arbitration practice of the Organisation, is an Arbitrator for leading Banks and Non- Banking Financial Companies, he is having several thousand successfully conducted Arbitrations to his Credit.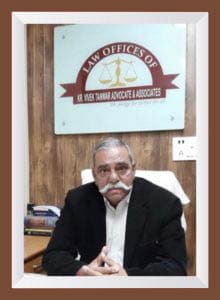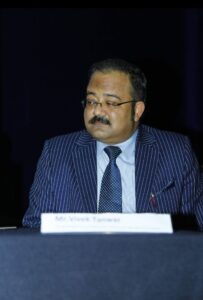 Kr. Vivek Tanwar, Advocate.
Mr. Vivek Tanwar a graduate in B.A.LL.B. (Hons) from Maharshi Dayanand University, Rohtak, Haryana, and enrolled with the Bar Council of Punjab and Haryana, Chandigarh, is the Founder and Director of Law Offices of Kr. Vivek Tanwar Advocate and Associates.
The Law Firm is a full Service Law Firm, having offices at Gurugram and Rewari.
Mr. Tanwar has been in effective litigation practice since the year 2000, with an immense record of conducting heinous criminal trials. He had been appointed as the SPECIAL PUBLIC PROSECUTOR by the Government of Haryana. Mr. Tanwar has also been appointed as a Legal Advisor in 'Internal Complaint Committee' constituted in compliance with The Sexual Harassment of Women at Workplace (Prevention, Prohibition and Redressal) Act 2013, by the Department of Police at District Rewari, Haryana.
He has also attended a two day conference on "National Stakeholder Consultations on Safety of Women and Children", 2020 organized by Haryana Police in collaboration with BPR&D and Indian Police Foundation Institute.
Apart from being an accomplished professional in criminal litigation, Mr. Tanwar has an in-depth knowledge of the Alternative Dispute Resolution mechanism, Mr. Tanwar is a member of prestigious institutions like NPAC (Nani Palkhivala Arbitration Centre) & ICABA (Indian Commercial and Arbitration Bar Association) and is also empaneled as an Arbitrator with IDAC (International and Domestic Arbitration Centre India) He has also been an advisor at Ex Curia International, which is a community of International Students and Professionals, working together towards the fulfillment of a single goal of promoting and exploring ADR practices from all across the world. Mr. Tanwar is also registered as an advocate in Haryana Real Estate Regulatory Authority, Gurugram.
Besides his excellence in practicing laws in vide variety of criminal and arbitration matters, Mr. Tanwar is equally devoted to academics as well. He had an honor to adjudicate various legal events in an annual fest Symbhav conducted by the SYMBIOSIS LAW SCHOOL, PUNE which was conducted in official legal partnership of  Law Offices of Kr. Vivek Tanwar Advocate & Associates. He has also been invited as a Panelist and the Resource person to "The International Seminar on Transnational Litigation", 2019 conducted by Nirma University, Ahmedabad. He has also been honored as Resource Person and Special Guest in a two-day conference on "Recent Trends in Corporate Laws-Their Impact on Socio-Economic Development in India" ,2019 conducted by the Osmania University, Hyderabad.   Mr. Tanwar was also invited as the Guest of Honour in the "International Conference on Arbitration and Conciliation Challenges & New Horizons", 2019 which was organized by the University of Lucknow.
He has also been awarded Guest of Honour in one day Seminar on "Human Rights & Persons with Disabilities", 2020 conducted by Law Mantra in collaboration with The Indian Law Institute, New Delhi, Maharashtra National Law University and National Law University and Judicial Academy, Assam. He has also sponsored 3rd "Dr. R.U. Singh Memorial National Moot Court Competition" at Faculty of Law, University of Lucknow, 2020.
Apart from this, he has also attended various sessions and seminars conducted by Lawyerd. He has been a judge in ALSA INTERNATIONAL MOOT COURT COMPETITION 2021. Mr. Tanwar was also invited as an adjudicator in 11th NLU-INADR International Mediation Tournament, Bhopal, 2022.
He has also authored a book titled as "AN OVERVIEW ON THE SEXUAL HARASSMENT OF WOMEN AT WORKPLACE (PREVENTION, AND REDRESSAL) ACT, 2013″.
Mr. Tanwar's  exhaustive knowledge of vide variety of laws has made him a successful and esteemed Director/Founder of Law Offices of Kr.Vivek Tanwar Advocate & Associates, He is managing the firm's PAN India operations with strategic tie-ups with leading lawyers throughout the country with the endeavor to provide quick and speedy legal remedies under one roof. The law firm is equipped with a team of diligent and enthusiastic lawyers who manage the affairs of the firm. Largely, the focal point of his litigation firm is on Commercial disputes by providing legal services to the banks and financial institutions in matters relating to the Debt recovery (DRT and DRAT), cheque bounce, Dishonor of Electronic Funds Transfer, Insurance claims, Insolvency (NCLT and NCLAT) and other related matters by embracing the tools of litigation and Alternative Dispute Resolution.
Apart from dealing with Commercial disputes, the firm also deals in matrimonial litigation such as Divorce matters, Maintenance, Domestic Violence, Alimony etc.
Some of the firm's happy clients are Yes Bank Limited, HDFC Bank Limited, AXIS Bank Limited, Lending Park, IIFL, RCFL, KOGTA, MRF Limited, TATA Motors Finance Limited, Cholamandlam Finance, PHO-COM etc. who are highly pleased and satisfied with the effective services of the firm.
Founding Member